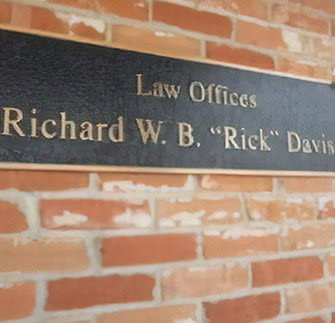 A BRYAN-COLLEGE STATION LAW FIRM YOU CAN TRUST
Rick founded his Texas law firm in 1996. As a former judge and practicing attorney, he is one of the most experienced and competitively priced lawyers in the area. He is willing to work to protect your rights and to pursue the most favorable outcome. Rick is willing to take his client's case to trial to pursue a resolution or dismissal.
Whether a client is facing a family law matter such as divorce or has a criminal defense case involving charges for DWI/DUI, assault or drug crimes, Rick defends his or her legal rights. He also fights aggressively for the best interests of his clients in business disputes, personal injury cases, and related legal matters.
Having tried more than 60 cases in front of a jury as a lawyer and having presided over more than 160 jury trials as a judge, Rick Davis's broad legal experience enables him to successfully represent clients' in many different legal areas. You deserve the representation that we can provide. Rick Davis understands the urgency of each case and values your time. At Rick Davis & Associates you can expect reliable representation that will guide you based on your goals.
AN HONEST AND CARING ADVOCATE
Rick Davis & Associates provides a welcoming and personalized experience to his clients. Rick is a family man with six children. He understands that bad things happen to good people and that sometimes good people get on the wrong path. Rick Davis takes the time to listen to his clients' concerns and develop an individualized legal strategy for achieving their goals. He provides a comfortable, small-office environment, with sufficient support staff to tackle even the larger, more complex legal problems that people sometimes face.
Schedule a consultation with a Bryan, Texas, lawyer. Contact Rick Davis & Associates Attorneys at Law, by calling 979-779-4357 or by filling out the online contact form.